Siôn Robert Lewis, also known as John Roberts
Lucy Williams tells us "The Penrhos family always took an active part in religious life, and Edward Owen in 1737 was one of the church choir of over forty members.  This was later led by William Morris, who mentions "St Cybi" (Edmund Prys's Psalter) as one of the tunes in the choir's repertoire.  Many fine hymns were written at Holyhead, among them "Braint, braint," ["Privilege, privilege"] by Sion Rhobert Lewis, Almanaciwr; "Golchwyd Magdalen yn ddisglaer" by William Morris; "Pan ddaw'r pererinion" by William Thomas, saddler, and "Craig yr Oesoedd" by S. J. Griffiths.  Some claim that W. Williams wrote "Mae'r iachawdwriaeth fel y mor" when staying at Hafod y Brain, inspired by the stormy seas at Porth Dafarch, as was S. J. Griffiths.  He passed Porth Dafarch on his way to Ddraenan stile, where he preached a sermon which is part of the Penrhos Feilw tradition.[i]
The Dictionary of Welsh Biography has an entry by Thomas Isfryn Jones for Siôn Robert Lewis, also known as John Roberts.  This indicates he was born in 1731 at Llanaelhaearn, Caernarfonshire. Being converted by Howel Harris on the occasion of a visit by the latter to the neighbourhood, he began to exhort with the Calvinistic Methodists. He settled at Holyhead about 1760, when he obtained a licence from the bishop of Bangor to open a school. He was the author of many works on various subjects; these include Rhyfyddeg neu Arithmetic, 1768, the first arithmetic book in Welsh and Geirlyfr Ysgrythurol, 1773, the first Welsh scriptural dictionary. While the books that Roberts wrote, compiled, and issued were good and valuable, his fame rests rather on his 'Almanacks,' which he commenced to issue about 1761 and continued to publish for the next forty-four years. After his death his son Robert Roberts (1777 – 1836) published the almanacks until 1837. In 1766 he married Margaret Jones, Bodedern, Anglesey, by whom he had six children. He died 19 September 1806.
William Morris
William Morris was one of the four Morris brothers, Lewis, Richard, William and John, – 'Morrisiaid Môn' (the Morrises of Anglesey).  William was born 6thMay 1705.  The Dictionary of Welsh Biography has an article by Emeritus Professor Robert Thomas Jenkins which describes him as botanist, antiquary and letter-writer.  The article informs us as a youth William spent some time at Liverpool.  In February 1737 he was appointed collector of customs at Holyhead, later on, he added other duties to this, and in 1758 became comptroller of customs.  In the meantime (1742) he had declined the chief clerkship to the comptroller at Chester. Thus from 1737 till his death he was settled at Holyhead, where he was also an unofficial physician and in great demand as a consultant in legal and other business.  His chief friend at Holyhead was the curate Thomas Ellis (1711/2 – 1792), up to Ellis's removal to Nutfield (1759); Morris was Ellis's choirmaster and was greatly interested in church music.  The whole life of Anglesey in the mid 18th century is mirrored in his letters, and he is our chief source for the social history of the island during his lifetime.  He married (1745) Jane, daughter and heiress of Robert Hughes of Llanfugail.  She died 1 May 1750, and Morris remained a widower.  He died 29 December 1763.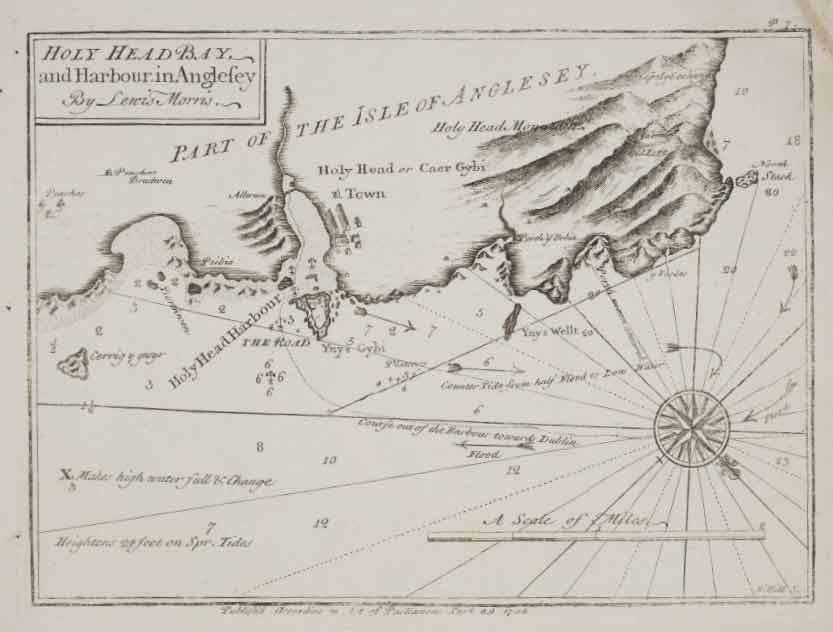 One of Lewis Morris's many talents was as a cartographer.  On behalf of the Admiralty he prepared various plans of the Welsh Coast.  This plan (courtesy National Library of Wales) shows Holyhead Bay and Harbour.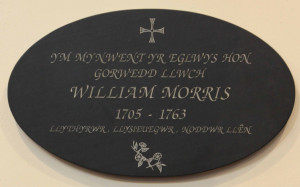 As well as being choirmaster at St Cybi's he was also Churchwarden. There is a memorial plaque to William Morris in the north aisle of the church.
St. Cybi Choir
There is every indication that at the start of the 20thCentury there was a strong musical influence at St Cybi's, including contributions from numerous children.
In August 1899 there was Sunday School Treat. for the members of the Sunday Schools of St Seiriol and St Cybi Churches with about 700 members attending a tea party at Porthdafarch, in a field belonging to Mr Thomas.
The following March there was a Literary and Musical Festival. – for St Cybi, St Seiriol and St. Elbod Sunday Schools which was held in the Town Hall.
The local newspaper reported the award of several prizes.  For the rendering of "Pwy yw y rhai hyn" (Stainer) the St Cybi Choir, under the leadership of Miss Walter-Thomas, was awarded the prize. The St Cybi Party, under the leadership of Mr W.B. Thomas, took the prize for the rendering of "Yn llaw fy Nhad." Soprano solo: Miss L. Pritchard, Vicarage.  Contralto solo:1, Miss Evans, London road; 2, Miss Warden.  Tenor solo: Mr B. Jones, Victoria House.  Baritone solo: Mr D. Jones, Holborn House.  In the competition for solo for boys under 14 the competitors were adjudged equal, and a prize was awarded to them – W.F. Lloyd, Longford Jones, H.R. Parry, and J. Griffith.  Duet (tenor and bass): Messrs R.J. and O. Hughes.  Pianoforte playing: Misses Griffith and Lizzie Parry.  Ditto, under 14: Master W.F. Lloyd and Miss L. Parry. Violin solo: Master G. Sinfield. Pianoforte playing at eight: Miss Nellie Jones.  For reciting "Gwron y Conemaugh" Miss Kate Ellis was awarded the prize, consisting of silver mounted carvers.  Mr J.R. Chamberlain took the prize for reciting "The falls of Lodore." Translations: Mr. R.J. Hughes and Miss E. Longfield Jones.  For the best Christmas Carol the prize was divided between Treffyn (Holyhead) and Gwilym Mathafara (Liverpool), who took all the prizes in the remaining numbers of this section.  For an essay on "Gwyliau yr Eglwys" Mr J.O. Owen took the prize, and for an essay on "Dylanwad Mam" the award went to Miss Hughes, Carreg Domas.  The report concludes by saying the festival proved a great success.[ii]
This report details fourteen prizes awarded, with reference to other unspecified awards. There were prizes for singing, playing musical instruments, translating and essay writing.  A wide variety of talents from a large number of children, and this makes no mention of the adults who, no doubt, were also active within the church and participating in the choir.
[i]Factors in the culture of pre-railway Holyhead; Transactions of the Anglesey Antiquarian Society, 1940.
[ii]The North Wales Chronicle and Advertiser for the Principality, 31stMarch 1900.