You are warmly welcomed to join us. We meet on Sunday at 11 am, or Wednesday at 10.30 am for a mid-week service. When there is a fifth Sunday in the month a joint Ministry Area service is held at 10.30 am – details on church noticeboard. After the service you can join us for tea, coffee and chat in the tiny old school house in the grounds known as Eglwys y Bedd. There is also a special Eucharist in Welsh (Offeren) on the 3rd Sunday of each month at 5pm and each season an open bible study on Thursday evenings at 6.30pm held in our sister church Saint David's, Ffordd Tudor, Morawelon.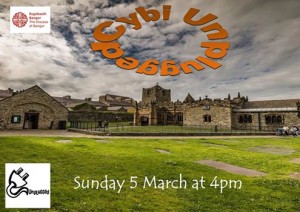 Location
The Church is the centre of Holyhead between the new Celtic Gateway Bridge and Stanley Street.
Contact
Vicar:  Revd Dr Kevin Ellis – 01407 861845/0753 5557632, holyislandvicar@gmail.com
The Vicarage, Trearddur House Mews, Trearddur Bay, Holyhead, LL65 2UD
Associate Priest:  Rev Jane Bailey – 01407 764780, jane.r.bailey@btinternet.com
Ministry Area Wardens: Carys Griffiths (01407 763027) and
Edna Aldred (01407 861388)
Mothers Union 01407 860078
Mother's Union Evening Group 01407 860078
Bible Study Group 01407 764780
St Cybi's Wardens:  Betty Abbit:   01407 763868
Elwyn Owen: 01407 730876 
History
Nestled  within the walls of the abandoned Roman Fort, Caer Gybi, is the ancient  church of St Cybi's Holyhead, founded in 540 AD.  Now visited by tourists from around the world, the bi-lingual church has been central to the Holyhead community for well over a thousand years.  Please visit the 'Friends of St Cybi' Site for further information on the history of our lovely church.