PLEASE take a look at our latest newsletter – Newsletter 22 April 2018
The Bro Cybi Annual Vestry meeting is being held on Thursday 26 April, starting with an act of worship at 6.30 pm 
Documents available to download:  Vestry Report 18
Agenda for Vestry 2018: Vestry agenda 2108
Minutes of 2017 Vestry Meeting: Minutes of Easter Vestry 2017

Information about our New Archdeacon of Anglesey and Ministry Area Leader 
Pastoral Care Circle – Please download the leaflet for April 2018
+  +  +  +  +  + +  +  +  +  +  +  +  +  +  +  +  +
——————————
INTERREGNUM
Following the appointment of Revd Dr Kevin Ellis as Ministry Area Leader of Bro Eleth we are currently in Interregnum.  PLEASE contact Revd Jane Bailey in the first instance.  Jane can be contacted on 01407 764780 on by Email: jane.r.bailey3@gmail.com
+ + + ++ + +
The Songs of Praise service on 9 July at St Cybi's Church was well attended. It was an opportunity for our congregations to celebrate Kevin's Ministry with us and to say goodbye to one another. All four churches had contributed towards gifts and at the end of the service we presented a framed print of Trearddur Bay beach (where Kevin walked his dogs almost every day), flowers for Jennifer. The remaining money was given to Kevin for him to decide what to buy. The cake and a glass of wine etc was enjoyed by everyone. The cake presented by Mon Cakery in Holyhead was wonderful. It featured Kevin sitting on the side of the cake, with his dogs alongside, and the names of all the churches etc.
Sunday 7 May (Fourth Sunday of Easter) 10:30am there will be a Synod Mon Eucharist at Ysgol Llangefni. Speaker: Revd Canon Andrew White, Vicar of Baghdad. If you would like to go, but do not have a lift please speak to Kevin, Jane or one of the wardens, and one will be arranged.
Looking forward to Canon Andrew's visit, the Bishop of Bangor – the Right Reverend Andy John – said, "There are times when names and places go together, and Canon Andrew White and Baghdad is an example of this."
Please note: There will be no other service in the Ministry Area on this day.
HOLY WEEK explained – diary for the week
Holy Week is the beginning of an incredible journey. This booklet will offer a guide and focus to our movement to the cross and beyond.
Booklet – Faces for and against – bookfold
Archbishop Rowan Williams stressed this: 'do not let the alleluias of Easter Day drown out the cries of the crucified'.
Come now, let us journey together
Archdeacon Paul will be in the Ministry Area on Monday 10 April – Please download details: BroCybiVisit2017
Pastoral Care Circle Leaflet
The monthly Pastoral Care Circle leaflet is downloadable here: April 2017
and – It's back ! EVERYONE VERY WELCOME
==================================================
Love Wales came to Morawelon
A team led by Carol Burstow came to Morawelon from 4-6 August 2016. They based themselves at St David's Morawelon. The team came from around the UK, as well as from closer to home, drawing upon volunteers from our ecumenical partners including our friends Clive and Kathleen Alder (English Baptists) and Joe Moreno (Gobaith Mon).
A range of activities took place from football coaching on the fields of Ysgol Llanfawr, painting, games in the big tent, bouncy castles, all wrapped up with the team's enthusiasm for talking about Jesus.
It was a brilliant experience and certainly demonstrates that St David's is a significant place in the life of the estate and is an important place for mission within Bro Cybi. (Kevin Ellis 13 August 2016)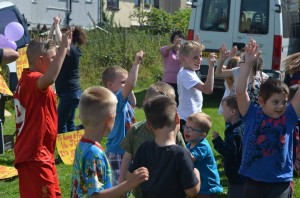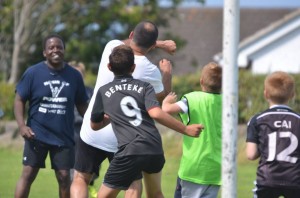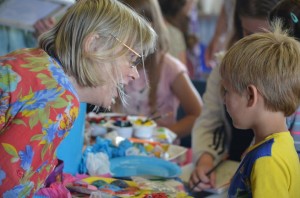 Thursday 4 August
11 am          Meet to pray
2-4 pm       Afternoon activities with children and families (e.g. football
coaching, crafts, refreshments)
6 pm           Evening Meeting
Friday 5 August
11 am         Meet to pray
2-4 pm      Afternoon activities with children and families (e.g. football
coaching, crafts, refreshments)
6 pm          Youth Meeting
Saturday 6 August
2 pm onwards    Family Extravaganza 6pm Celebration with prayers for
healing
PLEASE DOWNLOAD A LOVE WALES LEAFLET HERE: LOVE WALES
ANGLESEY PRAYER WALK – The Anglesey Prayer Walk is an annual event organised by the Anglesey Prayer Network. The Network meets monthly and brings together people from across the Island. The walk takes place on Saturday 18 June 2016. Please download a leaflet here. Everyone welcome. PLEASE DOWNLOAD A LEAFLET HERE:  PRAYER WALK LEAFLET (BILINUAL)
Between the 5th and 8th May we held a special WEEKEND OF INVITATIONS to which we were asked to offer invitations to family, neighbours and friends.  Starting with a talk by the Archdeacon of St Asaph, it went on to include local bands in St Cybi's Church, a discussion with a well known speaker about Forgiveness, a talk by the Bishop at one of our churches and Songs of Praise at the beach in Rhoscolyn.  The weekend was enjoyed by everyone who attended and we would like to say Thank You to everyone involved in the organisation of all the events and services.
Regular Sunday service times are shown on the pages of each church.  
————————–
Back to Church Sunday 
We hold regular Back to Church Sunday services.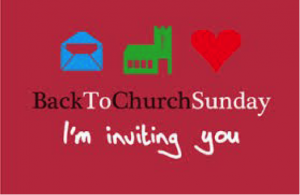 Why not take the opportunity to invite a friend or two
or a family member to come to Church with you to one of our services.
—————————-
An article written by our Vicar, Rev Dr Kevin Ellis published in the Church Times (C) on Friday, 7 November
"There is a time for silence and a time for speech" says the Teacher. On Remembrance Sunday and on then again at the Eleventh hour of the Eleventh Day of the Eleventh month, silence will be dominant; indeed one might almost say that silence will speak, for it is more than just the absence of words. Indeed, the stillness can hold us captive and stir the imagination. Silence to coin a phrase is not: 'nothing at all'.  Read the full article here