Please go to Services section of the website for sermons and Holy Week letter.
WEDNESDAY & SUNDAY SERVICES

Following an announcement by our Bishop today (17 March 2020), all regular services throughout the Ministry Area are cancelled until further notice.
————————————————-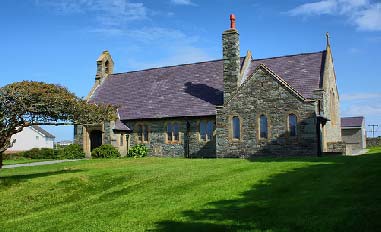 There is usually a Sunday service at 11 am every week at St Ffraid's.
When there is a 5th Sunday of the month a joint Ministry Area service will be held at 10.30 am at one of our churches.  Further details will be posted on the church notice board.
History
There's been a Church at Trearddur Bay for 1,600 years. Legend tells us that St Ffraid brought the precious gospel message across the sea from
Ireland in a tiny coracle or sailing on square of |green Irish turf.  A  wooden church was constructed on the beach and stood there for many generations.
The site is now marked by a Celtic Stone cross looking out across the beautiful bay. Find out more about St Ffraid's history
About
Trearddur Bay is a popular holiday destination, so in the summer months  our numbers swell with folk from far and wide. All are made welcome to our little community, joining in the morning services followed by refreshments in the Church hall, which is available for hire and in which a variety of activities take place during the week.
Location
The church is situated on Lon St Ffraid, the main road through Trearddur Bay. It is on the left when travelling away from Holyhead towards Valley.
Contact
Following the appointment of the Revd Dr Kevin Ellis as Ministry Area Leader of Bro Eleth, the Bro Cybi Ministry Area is currently in an Interregnum.
Associate Priest: Rev Jane Bailey – 01407 764780,  Email: jane.r.bailey3@gmail.com
Ministry Area Wardens: Carys Griffiths (01407 763027)
Andrew Roberts: Email: andrewroberts02@gmail.com
Church Hall Hire: Ros Taylor 01407 860247